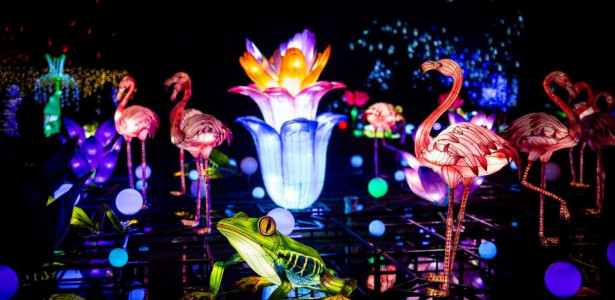 CHRISTMAS ILLUMINATIONS 2022
When the magic of Christmas comes to the Parc Floral... The Christmas Light Trails, illuminations planned for the holidays, from November 24, 2022 to January 2, 2023, inviting families to an immersive walk at dusk, in the heart of a multitude of illuminated works, a real sound and light show to start this festive period! A beautiful one and a half hour stroll under the trees "draped in lights", but also along the lake and within the gardens, glittering for the occasion.
The illuminations extend over a distance of about 2km, on 35 hectares, and include 22 luminous structures. These installations have been imagined by contemporary artists, such as the CCL collective with their works "The Enchanted Forest" and "Gobo Walk", or Mandylights, with "The Sparkling Cathedral" and "The Garden of Lasers".
Note that almost all the installations are in LED lighting, limiting its energy consumption, 100% renewable. As for the impact of the works on the surrounding environment, their installation has been designed in collaboration with the teams of the Floral Park, to respect the place and the plants.
Ticketing open since September 12, 2022.
» Torna alle news